Phensri - Traditional Thai Massage Parlor
Phensri will perform your massage at her parlor or bring her kit for a private session at your place. A travelling fee will apply

*Holiday Special* Full massage ( 1 1/2 hr $70)
Gratuity not included

---


Call Phensri takes major credit cards
call for other payment option


Phensri will travel to your location for a private massage. Additional travel fee will be charged
Customer feedback after massage session
Massage Environment:
In Phensri massage studio the stage is set for relaxation with a cozy warming atmosphere with very light meditative music in the background
Timing:
Full body massages last 90 minutes. More lengthy massages are also available based on your specific needs.
Clothing:
Massage customers are fully clothed with special supplied loose fitting apparel
Note:
Though Thai massage will help the body recover from body aches and pains it is not designed to fix body injuries.
---
OVERVIEW:
The practical expression of loving kindness can be traced to Thailand more than 2,500 years ago from the Vajrayana or the Diamond Healing lineage of Tibet. It is deeply influenced by Indian Ayurved and Traditional Chinese medicine.
Thai Massage incorporates elements of mindfulness, gentle rocking, deep stretching, and rhythmic compression to create a singular healing experience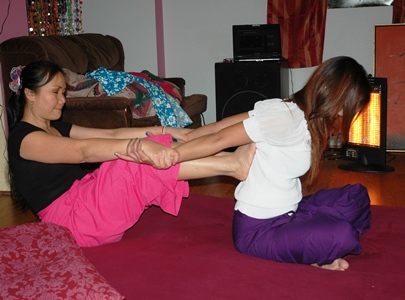 Thai Massage uses assisted yoga Asanas to open the joints and relieve the tension in surrounding muscles, which allows prana, chi, or healing energy to move more freely through the body
Thai Massage allows the receiver to experience a deepening into the asana (yoga posture) through a deep and gentle assistance, opening the joints without the resistance created when using their own power. The use of gentle rocking, thumb pressure and rhythmic compression helps the body to be prepared for the stretches so that the person feels "invited" to receive the stretch and defence reactions are not triggered
Thai Massage is performed on a mat on the floor and the client wears light, loose-fitting clothing. The session can last from one hour to three hours or more. The treatment style is slow, deliberate, gentle, non-invasive, and suitable for even the most fragile person.
Thai Massage facilitates and promotes a harmonious state of being. This ancient healing work strives to remove obstacles on the path toward Promiiwihansii or The Four Divine States of Mind: Loving Kindness, Vicarious Joy, Compassion, and Equanimity. It is a great privilege to touch a person and become a "conduit" for sacred healing energy, and we are honored to be able to offer this Yoga-based healing to you. Read more