Thai Restaurant Setup & Cuisine Consulting
We do full service Thai Restaurant Setup including financial projections and assessments. With the economy rebounding get a head-start now! Call us!
Phensri's team includes her husband
Darien
who is a Fortune 100 Management Consultant in the New York / New Jersey Metro area.
Even if you have no restaurant experience we will help you through all phases of making the decisions through creating the business plan, your website, to full operations.
We are currently doing a full service contract for a group out of state in Mid America.
Here are some of the steps:



> Discussion benefits of a Thai restaurant
> Decision point new or old facility? Location advantages etc.
> Development of a business plan for financing purposes, including financial projections.
> Restaurant selection and acquisition
> Checklist of all steps for implementation
> Services and Menu offerings
> Kitchen equipment requirements and layout drawings
> Information systems requirements & support / Point Of Sale (POS)
> Selection and hiring of staff
> Cooking staff training
> Restaurant Website development & Promotional activities
> Go Live - Operations startup
> Six monthly compliance and quality review by Chef Phensri
Phensri offers services as a
Thai cuisine consultant
For restaurants that need advise on the many aspects of offering the Thai cuisine, Phensri can help.
She covers all areas such as teaching the preparation and cooking of Thai dishes, creation of menus, determining food supplies, kitchen layout and in the selection of staff.
Here Phensri is giving operational advise to the owner of
Honeys Thai Pavilion,
that she helped to setup in Pelham Bay, Bronx, New York.
---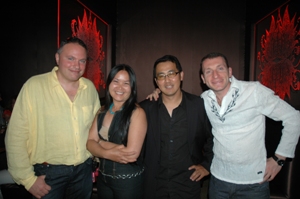 Phensri performed as setup consultant and here, participates in Preview Night (June 12th 2010) with the management group of
LOTUS THAI
of Brooklyn. Lotus Thai openened on June 18th.
---
Want to just add Thai Cuisine to your Restaurant? Click Here>
For more information

please contact Phensri: 732-277-5902 or email
phensri@fantastic-thai.com
Return to Cooking Classes Main Page
Return to Home Page