GIFT CERTIFICATES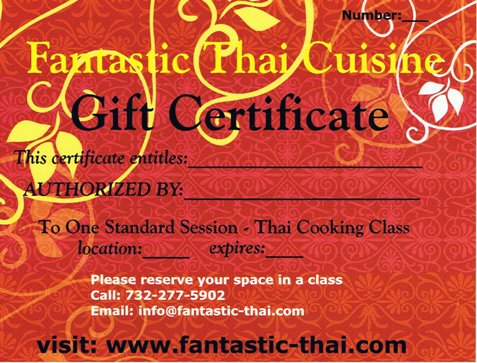 ---
NEW JERSEY


Special
when
purchased during Valentines week (2/11 -2/16)- 3 Hour Regular Class session - Old Bridge $60 per person

3 Hour Regular Class session - Old Bridge $65 per person
5 Hour COMBO Class - Old Bridge $108 per person

3 - 4 Hour Regular Class - HOBOKEN $95 per person

NEW YORK
3 - 4 Hour Regular Class session - Manhattan Class - $129 Kitchen NYC

For info on the classes click >>here Recipient may call in or email us to setup date and time for attending the class. Certificates are valid for 6 months after purchase.

PAYMENT OPTIONS:


Use the

Google Checkout Process

below to pay with your Credit Card
Select the preferred cooking class type (New Jersey Regular or Combo Class or Manhattan Regular Class) by clicking on the arrow in the selection box below, then click the Buy Now Google button to get to the Google site for processing.

Once completed the Gift Certificate will be mailed immediately to you.

TO SEND AS GIFT WE CAN SEND YOU AN AUTHORIZED EMAIL VERISON IMMEDIATELY!!!


For Multiple orders go to


Use link below for single orders

Personal Check

call us: 732-277-5902

For more information call us at 732-277-5902 or email us